Ron Wiseman is a man of many styles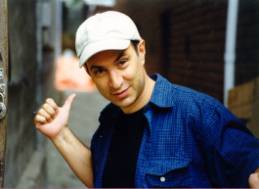 By LAUREN KRUGEL
CJN Intern
It's a summer afternoon and the sounds and smells of Toronto's Kensington Market waft through the open door of the Anshei Minsk Congregation where Ron Wiseman prepares for his last performance in Canada. The reggae singer says his music is a lot like a stroll through the eclectic downtown neighborhood that he has frequented for roughly 20 years.
"You walk down the street here and you'll hear reggae bass and it mixes in with some Portuguese ballad and sometimes you can stand at a certain point between three corners and you'll hear three types of music and it's pretty wild," Wiseman, says. "I'm a man of many hats, many styles." After performing at the Minsk for nearly two decades, the Winnipeg native has decided to "move the party" to Israel.
"Anything I'm doing here I can do better there. It's the land of opportunity," he says. Wiseman's newest album, Mystical Mood, was released in May by Phase I Studios. While he has released several home-recorded albums, this one is his first studio-produced record.
Wiseman says he fell in love with the reggae sound as a youngster in Winnipeg. "It's a music where every instrument knows its place," he says. "It's a music that has a lot of space, not a lot of talking." Mystical Mood features the heavy bass and percolated guitar riffs typical of most reggae music, but by using klezmer-style clarinets and Middle-Eastern instrumentation, Wiseman gives the album a distinctly Jewish sound.
Unlike reggae artists such as Bob Marley, Wiseman does not focus on politics, but rather draws his inspiration from the Torah. "There are laws that transcend politics. I believe in a higher rulership. Problems in the world don't have to do with this system or that system… You find truth wrapped up in smaller packages. Reading words of Torah, it's sort of like every letter is significant."
In Israel, Wiseman will give weekly performances on top of Mount Zion, where King David, a source of his inspiration, was buried. "David Hamelech is the ultimate Jew and the ultimate king and the ultimate human being. He was a soldier, a scholar, a dancer, a singer, a lover. He was a well-rounded individual," says Wiseman, adding it was the king's openness and versatility that made him such a great ruler.
He says he tries to carry some of these attributes into his playing: he rarely rehearses and prefers to go with the flow. At his last show in Winnipeg, he says, he only met his saxophonist and drummer five minutes before going onstage, but managed to pull off a seamless performance.
"I'm mister improv," he says. "If I have good players, it works." As for songwriting, he says there is no one right way to do it. "My brother knew two very good writers. One was Leonard Cohen and the other was Alan Ginsberg. He asked Alan Ginsberg, 'What is the rule in writing songs?' he said, 'The first thought is the best thought.' And so when he saw Leonard Cohen, he asked the same question, and he said, 'The last thought is the best thought.' I basically agree with both of them. "What I strive for in a song is that it's simple and you can carry it with you," he says.
To purchase Wiseman's CDs, contact Barry Lubotta at Marshmellow Records 416-291-9553.